Yesterday was a big day for me.  Not only was it Mother's Day, but it was…dum-de-dum…my birthday!
As my mother-in-law so kindly put it, I am now a quarter of a century hold. In layman's terms, that means I'm 25.
I enjoy shocking people with my age.  As a homeowner, mother of two, and working mom, lots of people expect me to be older than I am, despite the fact that I still look like I'm sixteen.  My patients routinely ask me if I'm going to school to be a nurse. They pat my hand absentmindedly, commenting  "How nice for you dearie, what high school do you go to?"
I can't help it, we are a young family.  As a teacher, my husband in particular gets daily expressions of incredulity from his fellow teachers, one of whom actually changed his diapers when he was a baby, a fact that equally delights his students and horrifies him.
A common scene played out yesterday as my family gathered round a delicious ice-cream cake and sang 'Happy Birthday' to me.  Ada spit all over/blew out the candles on my cake and my husband's aunt asked me how old I was.
"What are you, like 26?" she questioned.
"Nope, 25" I replied, stopping Ada from grabbing the burning candle wax.
Silence.
I've gotten used to being a young mom.  I think it's fun to watch older couples in their thirties, just starting to reach the point we are at in our lives.  At times, I think it's off-putting for older moms to be with me, feeling uncomfortable that I am so much younger, but really–is there anything about having kids that differs with age?  The sleepless nights, the poppy diapers, the tantrums–they don't care if you're 25 or 45.
On one hand, the expectations for young moms is lower (of course we'll abuse the system–bring on the WIC peanut butter, baby!), but on the other hand, I think the expectations that young moms place on themselves are even higher.  We feel the need to excel, to go back to school, to buy the house–just to prove that we are good mothers, that we didn't ruin our entire lives when we got knocked up.
Yesterday, the girls took extremely long naps.  My husband and I wandered around outside, bored out of our minds.  I took to swinging on Ada's swing, reaching to the sky, looking at the clouds on the most beautiful day yet this year, and marveling at how I could still feel like I did before I had kids.  Swinging, carefree.  If I squinted really hard, I could kinda-sorta imagine the person I was before I became a mother.  It couldn't really be that a whole different life lay sleeping just feet away, separated by the thin walls of our house, could it?  That when they woke up, I would go back to being mom?
It was almost a relief when they did finally awaken.  It made me nervous to imagine a different kind of life.  The truth is, I like being a mom.  I love planning activities for the girls (we are going to the zoo for Ada's third birthday!), doing arts & crafts with Ada, kissing Mya's chubby little toes.  I'm glad it happened the way it did.  As a young mom, I feel close to my girls, that I can still play and be silly with them, and I hope and pray that continues as they grow.
And, I know you have all be wondering.  No, I did not get a Kindle for my birthday/Mother's day.
I got a Nook Color!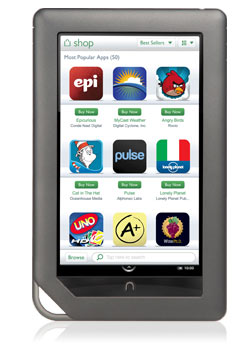 It is a thing of beauty.  I can read books, magazines, newspapers, listen to the radio, check my email and Facebook–all in a sleek and stylish tablet that fits nicely in a diaper bag.
I do love it, but I feel unworthy of such a tech-savvy object.  It seems like too much money, I'm afraid I won't use it enough to justify the expense, I'm afraid some small child will smash it.  I don't know, I just don't know what to do with such a cool present.  The hubs told me to just relax and enjoy it–no guilt, remember?–but I'm having trouble.
I'll keep you posted.
Hope you all had a wonderful Mother's Day!